Did you come here for learning how to make money with a laser cutter? Then scroll down to the bonus tip of this article!
In this article, I am showing off my small 40W DIY-ish Chinese laser cutter. I do so primarily to give back to the open source maker community, from which I learned a lot. Thank you at this point! As hobbyist makers are constantly gauging in which technology to get in next, I provide my experiences with setting up a small hobby laser cutter based on the infamous "eBay laser cutter K40" so that you can decide if laser cutting is a topic for you. It certainly was for me!
I was introduced to laser cutting the first time back in 2017. There, I was able to use a 40W CO2 laser cutter at the amazing Edinburgh Hacklab during their "open night". The Hacklab not only provided the machine to use but also great services such as support on how to operate it, best practices and the material to use. They trusted even non-members enough to let you use it without constant surveillance, which I enjoyed very much. Furthermore, kudos to the Fablab Karlsruhe that gave me the best spontaneous workshop tour I ever experienced in a makerspace back in summer 2018. They explained me all the details of their huge and impressive DIY laser cutter.
The article will be quite comprehensive and it will mostly deal with the technical aspects of my laser cutter, both in pictures and text. Furthermore, there is one bonus tip at the end, followed by my conclusion. Since I know that people are interested in how to make money with a laser cutter, I give a few tips and write down my experiences about it in the bonus tip.
This blog post is not intended to be a general introduction to laser cutting. There are many aspects to laser cutting, such as how the machine itself works, how to focus it, which materials it can cut, how to create designs for it and so forth. Nevertheless, let me attempt to explain what a laser cutter is with a few sentences: A laser cutter is a machine that guides a powerful laser beam to a work piece in order to cut or engrave it. The work piece is typically a flat piece such as wood, acrylic or any other surface that is to be worked on. Sometimes also curved objects are processed. While there do exist diode-based laser cutters, the laser cutter I am talking about here uses a CO2 laser tube to generate the laser beam. This type of laser cutter is referred to as CO2 laser cutter and they come at power levels of 40W or more. The laser beam is created in a stationary laser tube and then guided onto the work piece with reflective mirrors that can deal with such high powers. Lastly, the laser beam vaporises the material and thereby creates the cuts. There are big differences between the power levels of laser cutters and I am only talking about the lower end of the spectrum. Hence, after having explained to people that I own a small DIY-ish laser cutter that can cut wood, leather and some plastics with its 40W, I typically had to negate their immediate question if I could cut some metal pieces for them. For metals, you need around 10x as much power. Larger machines might even have up to 100x as much power as my machine, meaning they offer a few kilo watts of laser output power.
After having been attached to 3D printing for around 3 years at the time of 2017 when I was introduced to laser cutting, I was used to production cycles of multiple hours to finish a single 3D printed part. I always found that this is quite a long time for the impatient hobby-ist. Suddenly, there was a method to produce parts from flat surfaces in only minutes. I was amazed and knew that I needed access to such a machine in the future as to get deeper into rapid prototyping and small batch manufacturing with it. Since in Marburg there was no such machine anywhere close, I decided to build my own laser cutter at the end of 2018.
I based my small hobby laser off a Chinese laser cutter, commonly referred to as K40 laser cutter. Finally, my laser cutter setup is shown in Fig. 1 with my laser cutter itself and some of the additional major modifications. The modifications will be explained later in this article with texts and pictures. This part makes up most of the article. The table of contents is given at the end of this section to make it easier for you to navigate.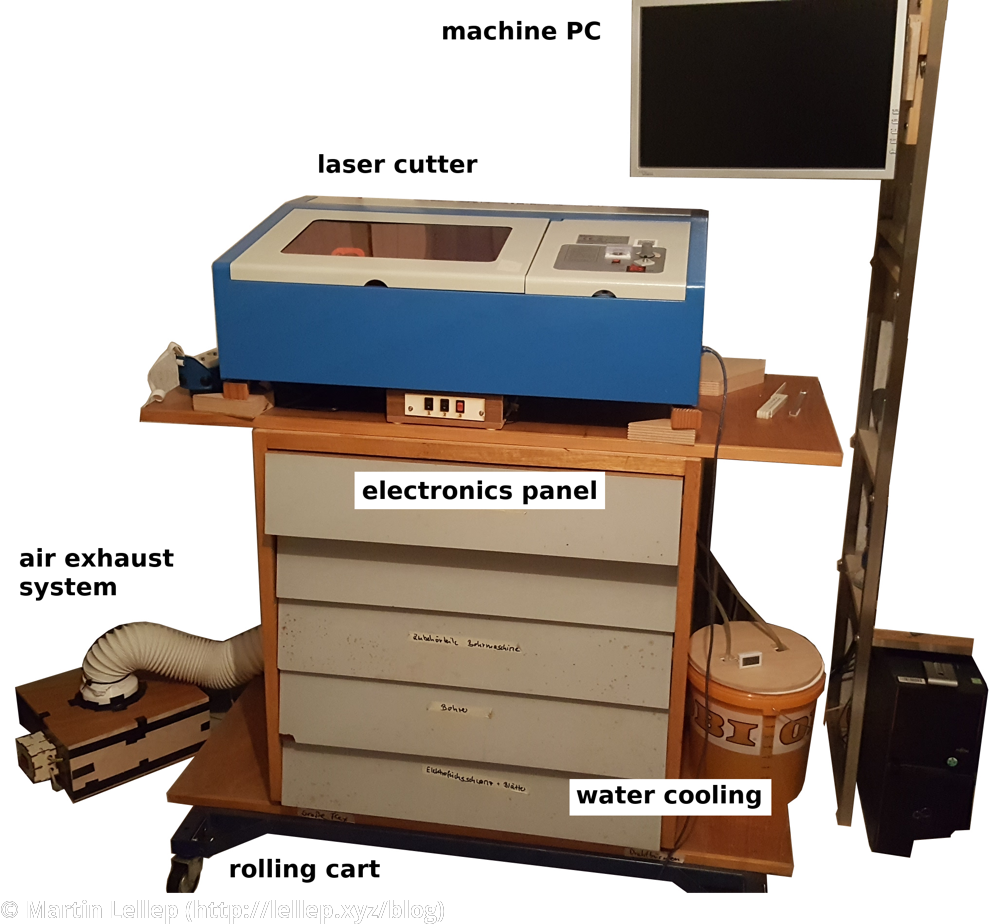 The K40 laser cutter is a small hobby grade CO2 laser cutter made in China. At a price point of about $300 to $400, it comes with everything that is needed. This price is very cheap as comparable products such as the Mr. Beam II or the Glowforge series start at around $3000! Hence, it has been widely adapted in the maker community and there are many add-ons, hacks and reviews about it out there.
At the end of the day, it is a fully functional 40W CO2 laser cutter with lots of accessories like pumps, extraction fans and software. However, since there is also no free lunch in the realm of power tools, the low price point comes at a cost. First and foremost, don't expect that the laser cutter works properly or at all upon arrival. All kinds of difficulties have been reported, such as misaligned laser beams, broken laser tubes or dirt spread all over the machine. Also, there are more disadvantages of the machine:
The control board is rather limited.
The K40 was initially made to etch rubber stamps and therefore comes with a very clumsy metal bracket to hold the material in place. It does not allow for adjustment in the height direction and limits the work area heavily.
The 40W laser tube only reaches around 32W power output on average.
The software is bad.
The extraction fan is bad.
The machine does not have an interlock system. Hence, it does not disable the laser beam when you open the lid.
The frame of the machine is not grounded. Your life is seriously in danger at this point because the machine uses mains voltage and a high voltage line of 20kV to generate the laser beam.
I bought my laser off eBay from a local reseller located in Germany. This helps to avoid any difficulties with import regulations compared to buying directly from China. Interesting enough, I did not even pay more than what I would have paid when ordered from China directly. Figure 2 shows a representative offer of the K40 laser cutter.

Chinese laser cutters at this price point need to be seen as a base to start from. You can build a very well working laser cutter system by investing some (little) money and (more than little) time into it.
I have done a large number of modifications to my stock K40 laser cutter. I will go over all of these modifications in the following and explain them.
In this bonus tip, I would like to write down some notes on how to make money with a laser cutter. Based on my experiences, making money with a laser cutter is possible. In particular on a small hobby-ist laser cutter as such a machine is very affordable. This makes it easy to begin your, for example, side business.
Let me state my thoughts on that topic in the following unsorted list:
Get in contact with local entrepreneurs. Maybe they have a regular meeting that you could attend. Typically, these communities are often very interested and very supportive. In Marburg, there is for example GruenderVirus. At the very least, attending events of these communities is business networking. This is a very valuable activity.
Look for business or idea competitions to participate in. They might be a good place to get some attention. Generally, make sure that people know what you do. You want to be known as "that laser cutter guy".
Be generous with give-aways. Small give-aways literally cost you nothing but are a great way to promote your laser cutter business.
Similar to the previous point: Have prototypes and small things ready to show off! You, as a tech affine maker, might not believe it but people sometimes cannot understand the broad spectrum of objects a laser cutter can produce. Having small demonstration items ready helps a lot for your future customers to understand what kind of things you can fabricate. Aside from different designs, I also recommend different materials and different finishes. Take, for example, wood stain, which can change the look of regular wood completely.
Think of presentation channels. Maybe a website? Maybe some kind of social media like Instagram? Once you established a channel, prepare loads of content for it to keep your audience busy. Oh, and don't forget to track your audience for analysing the performance of your channels. The channel that I used was a minimalist website: http://lellep.xyz/laser.
Value your work time. Do not work for free but always take into account the time you will spend on a project in your pricing. Especially when you begin it is very tempting to remove your personal cost from the equation in order to decrease your price. Please take my words of warning: Not valuing your own working time might back fire at some point.
Do not work with everybody. If you don't like your potential business partner - say, a person who wants to order something from you - then just don't work with that person. Getting a job done for somebody involves a quite tight relationship for a short amount of time and if you see potential problems arising due to differences in personalities, then just don't do it. Assuming you pursue your ambition of making money with a laser cutter seriously, please take my word when I say that other, much more pleasant, business relation will come for sure.
Get a business license. Only with that, you are on the safe side regarding taxes. Also, it enables you to offer your service more professionally. Not being registered means that you cannot scale your business beyond a certain point.
Have a goal. For instance, a good goal might be to earn the money back that you invested into the laser cutter machine itself. Given my very positive experience with Chinese laser cutters, I would always argue to get a decent Chinese machine. With that, the initial investment should be around $300 to $4000, which is an ideal intermediate financial goal to reach. After passing this number, you could deliberately stop your ambitions if you find that you don't like laser cutting as a business as much as you thought.
Potentially: Find a niche. Start-up people always say that you have to find a niche: For example, the first people to write a blog on travel adventures made a fortune with it. I am not totally convinced of that statement when it comes to laser cutting. That is because a laser cutter is a very versatile machine that can deliver a multitude of products. Anyways, …
… invest at least a little bit of thought upfront in the objects that you want to sell. Is it ear rings, merchandise, is it

B2B

or

B2C

? None of these decisions need to be final but you will see that there is just not enough time to serve all possible business directions. Having a rough plan, or better a rough analysis of the market opportunities, helps a lot in staying focused later on.
Establish a workflow to reduce the time you need for finishing a job. Think of how to organise your laser cutter design files, how to organise your business contacts and set up your laser cutter in a way that makes it easy to work with. For example, I found that a well designed Excel spreadsheet is useful for documenting my work and coming up with a price. Also, I used a cloud service to transfer the design data to my workshop

PC

as to reduce the time it takes to finish a project. Lastly, getting the right tools is necessary for an optimised workflow. For example, for assembling laser cut objects, I found the following tools to be useful: Rubber bands, masking tape, (wood) glue, precision tools (to remove excess glue, for example), clamps and something heavy to compress wet glue.
Build your machine thoroughly. Once you get laser cutter jobs, you do not want to disappoint your customers because your laser cutter broke after just a few hours of work time. Rather invest a few more hours to build the machine properly. You will benefit from it in the long run.
That's all.
Setting up a Chinese laser cutter for commercial interests is a great way to bootstrap a business, I believe. So go out and do it!
I learned a lot working on this project! First, I learned technical aspects on how a laser cutter works, how to operate it and how to make designs for it. In particular, fixing the Chinese stock K40 laser cutter to become a fully functional machine was good fun! For example, I learned how to make complex CAD designs with it such as the adjustable mirror head, air assist and laser bed. Second, I learned many business aspects that might become useful at some point.
Now, would I do it all again? Yes, I would!
However, now that I know how to fix and customise a Chinese laser cutter, I would probably get a larger machine. The price levels typically go as $400, $800, $1300, $2000. I would probably aim for a $2000 machine since I know that getting the money back through laser cutting jobs is realistic. The most interesting aspect of a more expensive laser cutter is the larger work area. The reason that this is so interesting is what people call scaling: A larger machine can produce designs with less manual intervention. Hence, you can produce more in a given time, which makes you much more competitive in the market.
If you do not have any commercial interest in laser cutting, I fully recommend the K40 laser cutter. If you do but you're not sure, yet, then still get the K40 machine as you can upgrade later if necessary. Only get a larger machine if you really know that you are seriously interested in getting in the business of laser cutting.
Feel free to reach out to me if you have any more questions regarding laser cutting. I am happy to help makers with some advice to get their laser cutter!